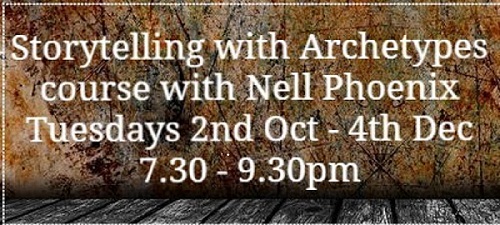 STORYTELLING WITH ARCHETYPES
This course is for experienced storytellers who wish to find new ways of engaging with traditional material.
'I am excited by storytellers who have an insatiable curiosity. How do we make new connections with the material we craft and tell, how can we be the best we can be? Storytelling with Archetypes bursts open barriers to creativity. That's what I call an exciting Tuesday night out!' Nell Phoenix
Throughout this course we will be discovering how archetypes can help us understand and define character,
language, ourselves as storytellers and relationships with the audience.
This course is for students who have already attended Nell's workshops.
Contact This email address is being protected from spambots. You need JavaScript enabled to view it. for further details
Dates : Tuesdays 2nd Oct - 4th Dec 7.30 -9.30pm or to secure your space on this course.
Venue : 99 Torriano Ave NW5 2RX
Nearest tube Kentish Town
Fee: £260 incl 9 workshops, group and one-to-one mentoring, showcase, and individual phone/skype rehearsal

STORYTELLING FOR TRUE BEGINNERS
We will be exploring what makes up traditional repertoire, learning tips and techniques to lift stories off the page and discovering our own storytelling voices.
Nell teaches on-your-feet style classes where participation in group, partner and solo work ensures quick and easy development of skills.
Course ends with a celebration showcase of the students' storytelling.
Contact This email address is being protected from spambots. You need JavaScript enabled to view it. for further details or to secure your space on this course.
Dates: Mondays 29th Oct - 10th Dec 7.30 - 9.30pm
Venue: Clean Break, Studio 3, 2 Patshull Road Kentish Town London NW5 2LB
Nearest tube: Kentish Town + 4 min walk
Fee: £162 incl 5 workshops, ticket to storytelling event (Daniel Morden!), group and one-to-one mentoring and end of course showcase
Aspiring Tellers
Nell runs highly-acclaimed courses in North London for aspiring and developing storytellers. Originally devised for UAL Central St Martins, Nell's courses provide an excellent training for students new-to-storytelling and tellers eager for a space to develop skills, understanding and repertoire.
12, 10 or 6 week courses are available at various times throughout the year (fitting in with Nell's touring schedule). Contact Nell for details.
Nell runs:
Storytelling for Beginners

Beyond Beginners

UnLeashed

Back to Basics

No Holds Barred
Nell's courses are usually run in and around Kentish Town, North London.
Teacher Training
Teachers are in a unique position to enhance learning through storytelling.
Nell's storytelling workshops for teachers are lively, practical events. Nell teaches easily-grasped techniques to lift the tales off the page, to re-tell the story in your own words and to share the story with your own vision and voice.
The workshops aim to:
Teach the basic stepping stones of oral storytelling

Empower the teachers as storytellers

Encourage the teachers to use storytelling as a creative teaching tool
Nell also runs one-to-one mentoring sessions.
Other Workshops for Adults
Nell is also available for half-day, whole day or regular workshop sessions. The workshops are suitable for skills enhancement, inset days and workshop demonstrations. Nell has taught teachers, librarians, priests, Drama students, actors and parents.
'May you keep on weaving the yarn of your mesmerising stories forever and ever...'
Jaspreet Khan, British Council workshop, India