Diary 2019 for StoryNight at Torriano
Details
StoryNight at Torriano Autumn 2019
WED 13th Nov
Doors 7.30 / Stories start 8pm
£10/8 on the door incls delicious mocky/cockytail designed by Nell
StoryNight Welcomes BADEN PRINCE
BADEN PRINCE (Junior) is a London-based writer, poet, performer and storyteller. Over the past ten years, he has established a solid reputation with performances at major venues all over the UK and abroad, the USA and the Netherlands in particular. From 2003 - 2010 he was the curator and host of "Speakeasy," one of London's most popular poetry and spoken word events, enjoyed and respected by audinces and performers alike. As a performer, Baden entrances audiences with his warm, engaging manner, his mellifluous voice and his irreverent, humorous style.
WED 11th Dec
Doors 7.30 / Stories start 8pm
£10/8 on the door incls delicious wintery mocky/cockytail mixed by Nell and
festive delicious treats
Christmas Barnstormer
GAWAIN AND THE GREEN KNIGHT told by SARAH RUNDLE
Gawain, nephew to King Arthur, rides out in golden armour on his white horse.
His mission is suicidal: to seek beheading by the axe of a murderous giant.
His journey is long and cold; he is constantly ambushed …
but the greatest danger comes from his own heart.
Gawain is a C14th alliterative poem, itself based on an ancient Celtic story. It has themes of magic, honour, heroism tinged with absurdity, and has at its heart a dysfunctional family, where a wrong done in one generation festers into revenge upon the next.
Sarah Rundle's prose re-telling of this epic includes songs, humour, and contemporary references: the etiquette of Christmas presents, gasmen, Downton Abbey, Powerpoint, and gossip mags.
When and where
Details
When
Second Wednesday of each month (Closed August for alternative fun!)
Doors open 7.30pm; stories start 8.00pm. £7 on the door
Where (contact details)
99 Torriano Avenue
London NW5 2RX
Nearest tube: Kentish Town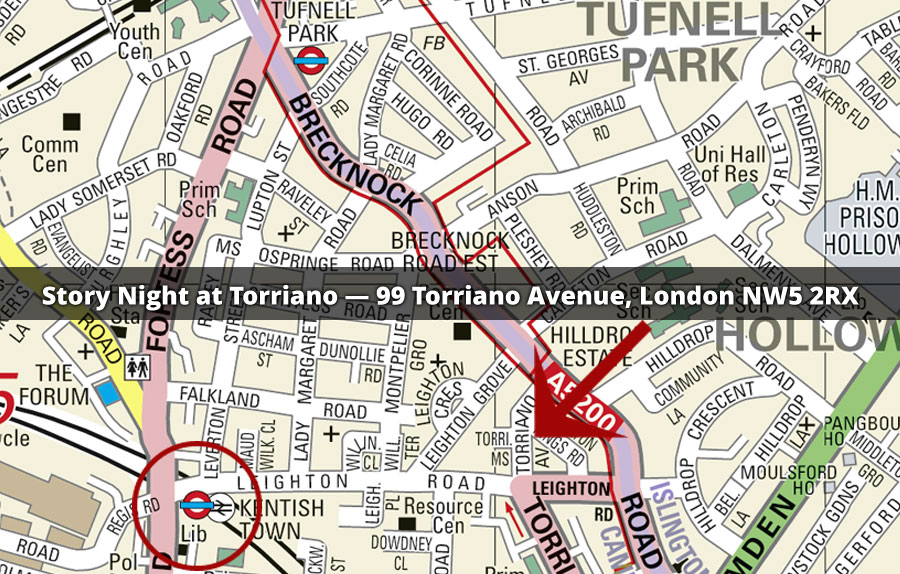 About StoryNight at Torriano
Details
London's liveliest storytelling club-night for adults, run by Nell Phoenix.
Professional storytellers headline the evenings at our intimate, candle-lit space. They spellbind us with stories that have been told and re-told for ever - epics, myths, legends, folk and fairytales.
These tellers transport with their tales, they connect in the moment with the space, the story and the audience, creating an intimate and unique experience. At StoryNight, storytelling is a traditional yet wholly contemporary performance art.
StoryNight is at the grassroots of the London storytelling scene. We have a fun and friendly crowd and the best listening ears in the capital!
At StoryNight we encourage well-honed 10-minute tales from the floor. Speak to Nell on arrival.
And it's only £7 on the door including wine and nibbles. For details about the next StoryNight, see our Diary page.
Take a punt on any of the (other) storytellers Phoenix finds for her Story Night. This really is storytelling for grown-ups at its absolute best - one of London's best-kept secrets.
Viewfromthegods, 2015


Stories live in your blood and bones... and light candles on the darkest nights.
Patti Davis
People are hungry for stories. It is part of our very being.
Studs Terkel