Diary 2019 for StoryNight at Torriano
Details
NEXT UP AT StoryNight 2019 (August we take a break to frolic in the fields)
WED 11th Sept Doors 7.30 / Stories start 8pm
£10/8 on the door incl mocktail/cocktail + nibbly bits
TRISTAN AND ISEULT
told by Katy Cawkwell
Tristan & Iseult is one of the great love stories, spanning the lands and seas of Cornwall, Ireland and Brittany.
Hear afresh the rapture in music that drifts across the water, the tenderness of a healing touch, the passion in a game of chess,
the intimacy of an apple orchard and the thrill of clutching at your lover's hand and fleeing to the wild secret places of this land.
Katy picks a clear, brilliant path through this many-layered legend,
mingling story with snatches of Gaelic song and
touching her listeners with the excitement, beauty and tragedy of this timeless tale.
"...mesmeric storytelling ...a wonderful story, beautifully told" Bridport Arts Centre
"a lovely way with words—they fall from her tongue like the pouring of honey!" audience member
"a finely crafted, thrilling epic tale of love and loss… Katy conveys the thrills and sorrows of young love with skill and humour…" South Devon Storytellers
Katy Cawkwell has been storytelling for 20 years, featuring in international festivals from India to Iceland and captivating audiences from the Barbican stage to a burial chamber on Anglesey. She was shortlisted for an Arts Foundation Award and has featured on Radio 3 and 4. She is well-known for unravelling complex narratives into richly entertaining, glittering stories that linger in the mind long after they are told. Her previous work includes The Falcon Bride (Njal's Saga), The Kingdom of the Heart and Rhiannon.
"compelling and gripping…" Everything Theatre
"It was great, it was superb, it was magical, it was enthralling" Ilkley LitFest review
When and where
Details
When
Second Wednesday of each month (Closed August for alternative fun!)
Doors open 7.30pm; stories start 8.00pm. £7 on the door
Where (contact details)
99 Torriano Avenue
London NW5 2RX
Nearest tube: Kentish Town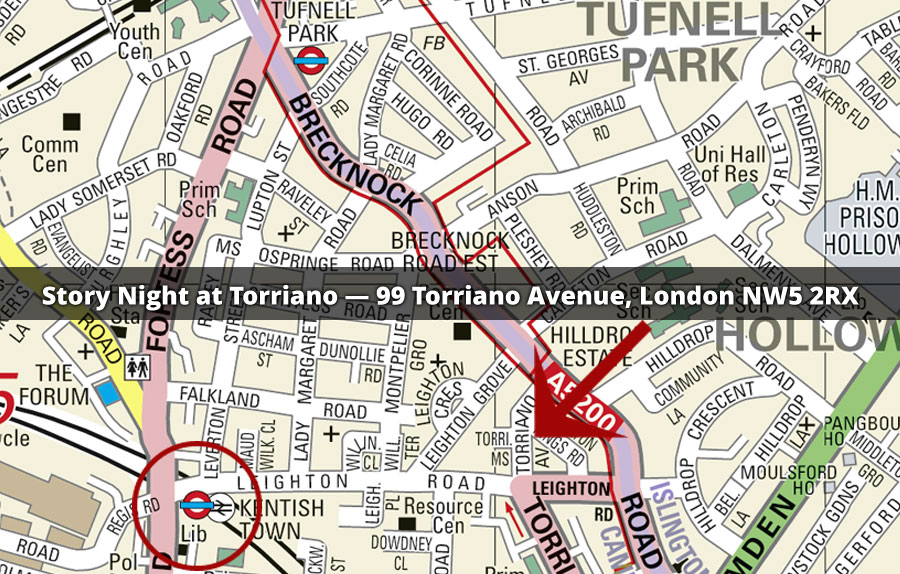 About StoryNight at Torriano
Details
London's liveliest storytelling club-night for adults, run by Nell Phoenix.
Professional storytellers headline the evenings at our intimate, candle-lit space. They spellbind us with stories that have been told and re-told for ever - epics, myths, legends, folk and fairytales.
These tellers transport with their tales, they connect in the moment with the space, the story and the audience, creating an intimate and unique experience. At StoryNight, storytelling is a traditional yet wholly contemporary performance art.
StoryNight is at the grassroots of the London storytelling scene. We have a fun and friendly crowd and the best listening ears in the capital!
At StoryNight we encourage well-honed 10-minute tales from the floor. Speak to Nell on arrival.
And it's only £7 on the door including wine and nibbles. For details about the next StoryNight, see our Diary page.
Take a punt on any of the (other) storytellers Phoenix finds for her Story Night. This really is storytelling for grown-ups at its absolute best - one of London's best-kept secrets.
Viewfromthegods, 2015


Stories live in your blood and bones... and light candles on the darkest nights.
Patti Davis
People did not wait for writing before they told stories
Albert Bates Lord